This page provides you with practical information about our practice. It includes descriptions of our office location, including a map and directions, hours, appointment scheduling, insurance acceptance and billing policies.
Ear, Nose, and Throat Doctor Florence, SC
Florence Ears Nose and Throat
1521 McClure Ct
Florence, SC 29505
843-665-2900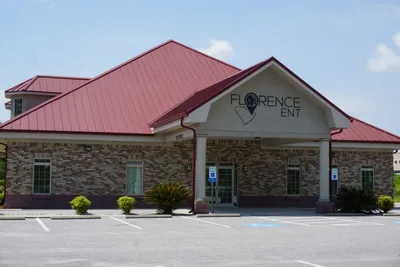 Monday:
08:00 AM - 05:00 PM
Tuesday:
08:00 AM - 05:00 PM
Wednesday:
08:00 AM - 05:00 PM
Thursday:
08:00 AM - 05:00 PM
Friday:

08:00 AM - 12:00 PM

We will close tomorrow Thursday 10/11/18 at 12 noon due to anticipated effects from them the storm, and to ensure the safety of our employees. We plan on normal hours on Friday. Stay safe and dry.

Appointments
We know you have many choices when choosing an Otolaryngologist in Florence, SC, so we have made requesting an appointment a simple process via our Web site. If, for any reason, you cannot keep a scheduled appointment or will be delayed, please call as soon as possible. Charges may be incurred for appointments cancelled less than 24 hours before scheduled appointment time. Please call for an appointment.
Payment Options
We accept checks, cash, VISA and Mastercard. We also offer a flexible payment plan. Please see our Financial Coordinator for details. We are happy to file insurance for your reimbursement as long as you are free to choose your own dentist.
Financing Options
CareCredit is here to help you pay for treatments and procedures your
insurance doesn't cover. We offer No Interest* financing or low minimum monthly payment options so you can get what you want, when you want it. You can even use CareCredit for your family and favorite pet.
Insurance
Our office accepts a variety of HMOs, PPOs, and other health plans. Please call our office to verify acceptance of your insurance carrier.
Accepted Insurance Carriers
Blue Choice
Blue Cross Blue Shield
Carolina Care Plan
Cigna
Medicaid
Medicare
And most other major insurance.
Facilities and Equipment
Flexible Fiberoptic Laryngoscopy
Nasal Endoscopy
In-office Balloon Sinuplasty
In-office Turbinate reduction
Micro-otoscopy
Audiologic Testing (Hearing Test)
Pulmonary Fucntion Testing